Intro Text
Dún Laoghaire-Rathdown (dlr) commenced the process of reviewing the current Dún Laoghaire-Rathdown County Development Plan, 2016-2022 in January 2020 and intend to prepare a new County Development Plan (CDP) that will shape the future growth of the County for the period of 2022 – 2028.
The initial 8-week pre-draft public consultation closed 28rd February, 2020 with a total of 151 written submission received. We would like to thank all the individuals and groups who made submissions as part of the pre-draft consultation phase and to everyone who visited us at our open days held throughout the County. Submissions can be viewed in full here:
The Development Plan team has now completed summarising all submissions received and has provided responses to the issues raised along with recommendations on the policies to be included in the Draft Plan.  This report is available to view online here: 
Pre-Draft Chief Executive's Report
This report will now be considered by 40 dlr councillors who may then issue directions to the executive regarding the preparation of the draft plan. 
Work will continue throughout the summer preparing a Draft Plan. It is anticipated that the Draft Plan of the executive will be circulated to the 40 councillors for their consideration in the Autumn. This timeframe is subject to change, however, in the context of the current health measures arising from the COVID-19 pandemic.
The government have put in place an order under Section 251A of the Planning and Development Act, 2000 (as amended) from Sunday 29th March to Saturday 9th May inclusive.  An order under Section 251A means that time periods requirements for the Plan process are to be disregarded for the duration of the specified time period.  The Department of Housing, Planning and Local Government have advised that the period in which all plan public consultation, Council briefing, and meeting activity must take place is extended for the period covered by the order.
Subject to evolving timeframes, it is expected that your next opportunity for public involvement in the Plan making process will be in late 2020 and early 2021 when you will have a chance to make a submission on the draft Dún Laoghaire-Rathdown (dlr) County Development Plan. The table below sets out the plan making process and the stage we are at now: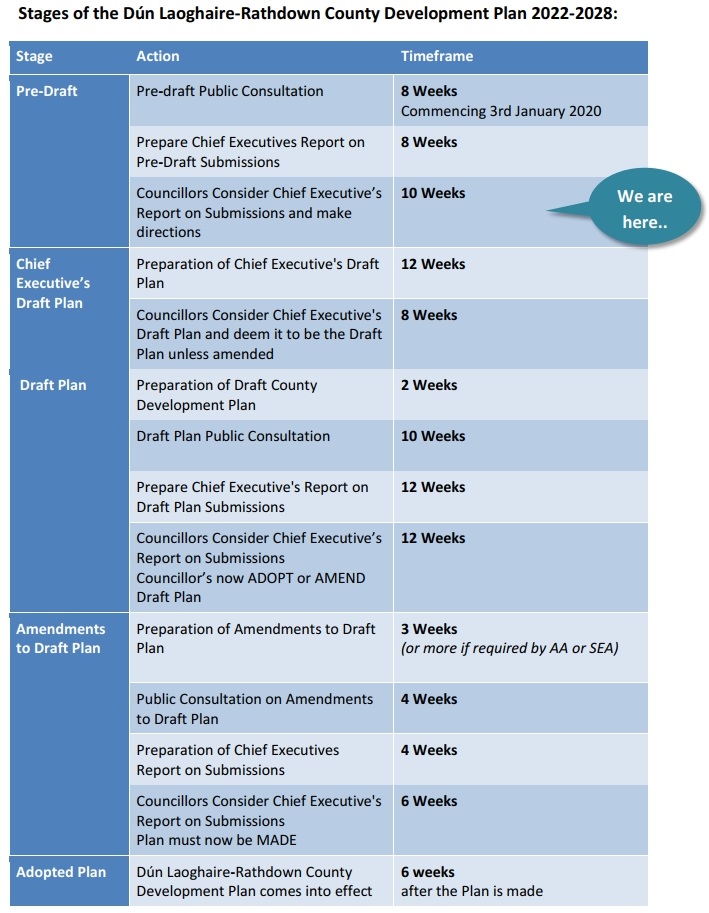 (To download the 'Have Your Say' document from the 'Related documents' section and to access the Story Map, it is recommended to use Google Chrome)