Culture Night - Friday 20 September
dlr LexIcon will be open from 4- 9pm for Culture Night on Friday 20 September - full programme to follow.
Exit 15 - Calling all movers, groovers and shakers!
Take part in Exit 15 upcoming events. There's loads happening with Exit 15. Some of the activities happening in June are highlighted below:
Free Street dance classes commenced this month in Gaelscoil Sliabh Rua and take place each Tuesday, catering for those between 8 and 11 years (4:00pm -4:45pm) and 12 to 16 years old (4:45pm -5:45pm). This is a drop in event.
Weekly drop-in Dance classes for those aged 50+ continue in the month of June and will run right through the summer. (2.30pm - 3:45pm in Gaelscoil Sliabh Rua).  
Remember that all activities are free of charge.
We'll keep you posted regarding other upcoming exciting Exit 15 events that will take place over the summer. Keep an eye on Exit 15's social media pages. Facebook: @exit15creativespace
If you're interested in any of the events or need further details please contact CoisCéim : 01 878 0588 / admin@coisceim.com or Louise Osborne Community Liason: exit15@vaireland.org
Exit 15 is a partnership between Dún Laoghaire-Rathdown County Council, Voluntary Arts Ireland and Queen's University Belfast, funded by the Arts Council's Invitation to Collaboration Scheme 2017 and Dún Laoghaire-Rathdown County Council. CoisCéim BROADREACH was selected by Exit 15 to collaborate closely with the Ballyogan community to bring together their skills and experience with those of professional dancers and creative artists.
Arts and Disability Announcements
'Access All Areas' is an award that is designed to respond to the need for better access to cultural activities at local level for people with disabilities. Loaded Dice Theatre Company are the recipients of the award. Loaded Dice is a theatre company comprised of adults with intellectual disabilities. They presented 'Do We Not Laugh?', a comedy based on the devised work of the company's actors all of whom have an intellectual disability, in the Studio dlr LexIcon on Friday 11 May. 
More details here
'All Aboard Again' is an artist residency focusing on young people with intellectual disabilities based at the Grainstore, dlr's Youth Arts Facility. We are delighted to announce that the recipients is All in Arts, led by musician, Jonathan Reynolds, who has led participatory music and art projects for 20 years with a focus on work with people with intellectual disabilities.
More details here
Visual Art Commissions 2020 & 2021
The recipients of the 2020 and 2021 commissions have been announced- read more
Artists in conversation podcasts
You can now listen to recordings from our popular Artists in Conversation series by clicking here.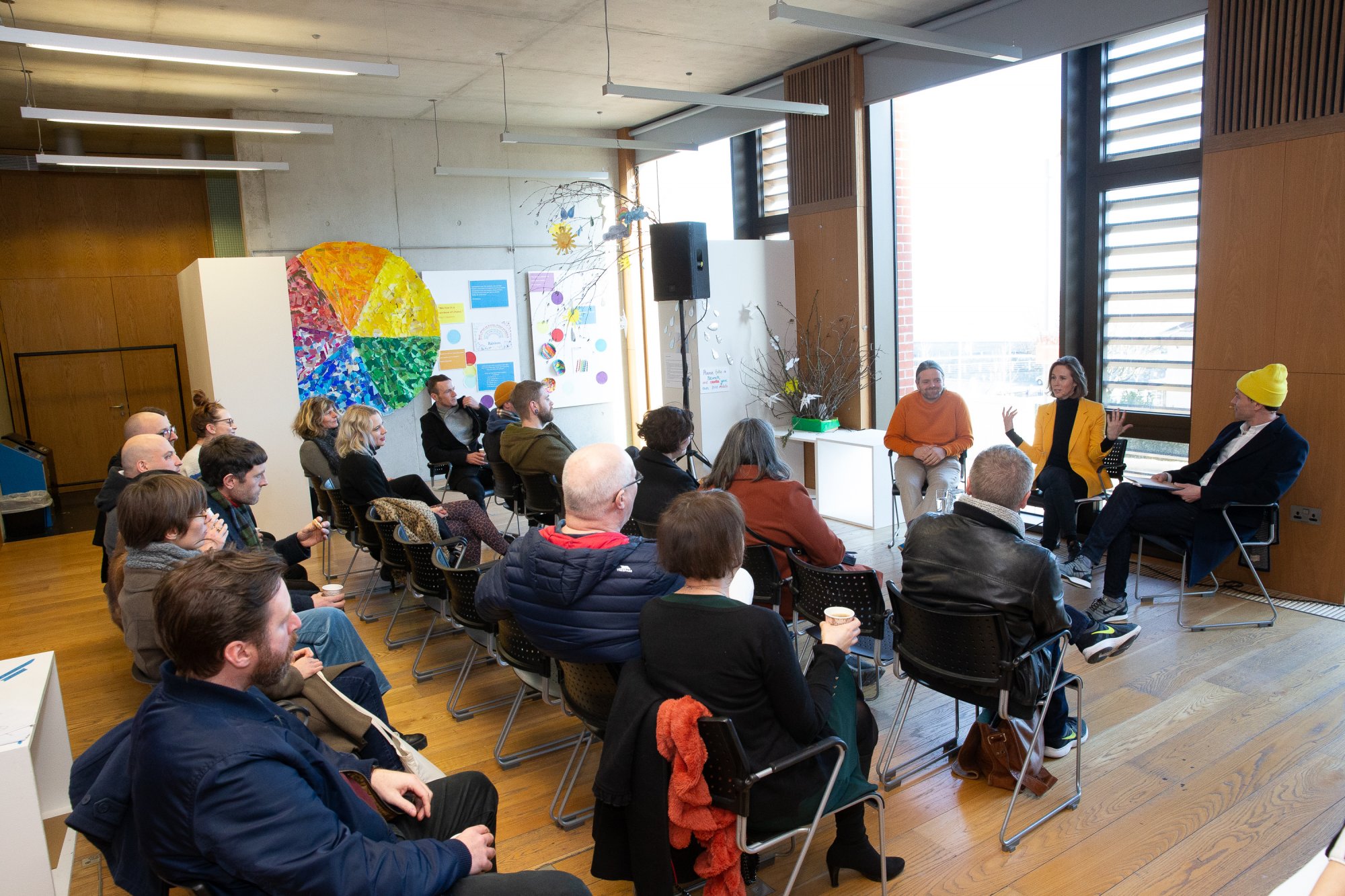 Exhibiting artists Paul Hallahan and Lee Welch in conversation with Rachael Gilbourne. Image credit: Peter Cavanagh